Know of any density measurements that aren't covered here? Is there a mistake?
Would you like to see measurements of more liquids? Let us know here.
Relative density (also known as specific gravity) is a measure of the density of a material. It is dimensionless, equal to the density of the material divided by the density of water. When layering drinks, a bartender should have a pretty good idea what liquids are heavier than others. No amount of technique will enable Kahlua to float on water (why would you want to?).
The chart below will help you determine how certain liquors will stack up against each other. If you don't know the density of a liquor and can't compare it to one on the list, keep in mind that lower proof often means higher relative density as the extra sugars weigh the liquid down.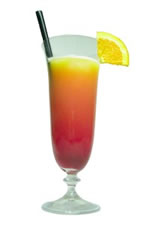 A Tequila Sunrise is a good example of layering tequila, grenadine, and orange juice.
| | |
| --- | --- |
| Liquid | Relative Density |
| Southern Comfort | 0.97 |
| Tuaca | 0.98 |
| Water | 1.00 |
| Green Chartreuse | 1.01 |
| Benedictine | 1.04 |
| Brandy | 1.04 |
| Cherry Liquor | 1.04 |
| Cointreau | 1.04 |
| Kummel | 1.04 |
| Peach Liquor (Schnapps) | 1.04 |
| Peppermint Liquor (Schnapps) | 1.04 |
| Sloe Gin | 1.04 |
| Midori Melon Liquor | 1.05 |
| Rock and Rye | 1.05 |
| Apricot Brandy | 1.06 |
| Campari | 1.06 |
| Blackberry Brandy | 1.06 |
| Cherry Brandy | 1.06 |
| Peach Brandy | 1.06 |
| Sambuca | 1.06 |
| Yellow Chartreuse | 1.06 |
| Benedictine D.O.M. | 1.07 |
| Amaretto di Saranno | 1.08 |
| Drambui | 1.08 |
| Frangelico | 1.08 |
| Orange Curacao | 1.08 |
| Strawberry | 1.08 |
| Apricot Liquor | 1.09 |
| Tia Maria | 1.09 |
| Triple Sec | 1.09 |
| Amaretto | 1.10 |
| Blackberry Liquor | 1.10 |
| Blue Curacao | 1.10 |
| Galliano | 1.11 |
| Cherry Liqueur | 1.12 |
| Creme de Menthe | 1.12 |
| Strawberry Liqueur | 1.12 |
| Coffee Liquor | 1.13 |
| Parfrait d'Amour | 1.13 |
| Creme de Banana | 1.14 |
| Creme de Cacao | 1.14 |
| Kahlua | 1.15 |
| Creme de Almond | 1.16 |
| Creme de Noyaux | 1.17 |
| Anisette | 1.18 |
| Creme de Cassis | 1.18 |
| Grenadine | 1.18 |